Axis Naming Convention Guide
​
Whilst it may seem that the names for Axis network cameras are totally random, there is actually meaning behind each digit within the code. It's a great way to understand an overview of what the device can offer including specifications and applications for each model.
Range
-
The first letter in the camera name tells you which of the main product lines the product belongs to.
V
= Cameras designed for professional live streaming purposes such as lectures and conferences.
Q
= The most advanced, secure and adaptable solutions, designed for "Mission Critical" installations with superior image quality.
P
= Versatile and secure, multi-purpose video solutions. Often used in a wide range of mainstream surveillance situations, also featuring high image quality.
M
= Affordable, intuitive and dependable video solutions which are simple to install and operate.
F
= Flexible, modular products for a wide variety of discreet surveillance systems for indoor, outdoor or mobile surveillance applications.
XF/XP
= Explosion protected cameras. XF: Fixed, XP: PTZ
T
= Accessories, typically mounting options and housing accessories to increase the benefits of using network video technology.
---
Product type - The first number in the camera name indicates the product type within the product range.

1-2
=
Fixed camera
, is the ideal choice when a traditional camera design is preferred for deterrence as they are mounted in a way that the pointing direction is clearly visible. Changeable lenses are available and housing can be added to ensure the camera is suitable for outdoor use.
3-4
=
Fixed dome
, is a compact camera solution, users benefit from the discreet and non obtrusive design and the fact that it is difficult to see the position in which the camera is pointing. Additionally the camera casing protects against tampering attempts such as re-directioning and de-focusing.
5-6
=
PTZ Camera
, is a type of camera that offers Pan, Tilt, Zoom capabilities allowing for live monitoring of expansive areas and zoomed in scenes. A PTZ camera can be both a deterrent because of the size, but also provide discreet surveillance as it is hard to see where the lens is positioned.
7
=
Encoders/Decoders
. An Encoder converts analog video signals into digital images over an IP network, turning an analog system into a network system. Please note that although adding an encoder to an analog system does have its benefits, it can work out as a costly solution, often it works out more cost effective to replace the system with an IP system.
8
=
Positioning Cameras,
deliver the most comprehensive field of view possible. Mounted on the top of walls, columns or poles, they provide a panoramic FOV of 360° and a vertical (ground to sky) FOV of 135°. They offer both high-speed and ultra slow, jerk-free pan and tilt movements, and they are designed to be reliable, robust and weatherproof.
---
Series - The third digit (second number) has been added to make it easier to select a product that meets your surveillance requirements. Cameras have been categorised in to series as a way of describing a family of products that are closely related through a similar design and/or application area.
---
Running Number

-

Used to differentiate the products within a series. For example the P13

6

7 being replaced with the P13

7

7. However, you get more information from the other parts of the product name.
---
Resolution - The last number indicates the camera resolution (or in the case of encoders/decoders, the channel number). Please see below resolution examples.
1
= VGA / 640 x 480
2
= 4 CIF / 704 x 480 (NTSC) / 704 x 576 (PAL)
3
= SVGA / 800 x 600
4
= HDTV 720, 1.3MP / 1280 x 720 / 1280 x 1024
5
= HDTV 1080, 2MP / 1920 x 1080 / 1600 x 1200
6
= 3MP < 5MP / 2048 x 1536
7
= 5MP < 8MP / 2560 x 1920
8
= 8MP < 15MP
9
= ≤ 15MP
---
Extension - Indicates how the product has been prepared to suit certain environments.

C
=
Cooling
enclosure, for outdoor use with active cooling.
E
=
Enclosure
for outdoor use, meaning it is ready to be installed outdoors straight from the box.
V
=
Vandal Resistant
, ensures the camera can withstand a level of impact without breaking.
L
=
LED
illumination for enhancing images at low light levels.
P
=
Panoramic
, 360° view.
R
=
Rugged
, suitable for exposure to vibrations, moisture and changing temperatures
S
=
Stainless
steel enclosure
W
=
Wireless
, referring to the network connection. Meaning it can be installed without an IP cable but will still require power to the device.
---
So now we have broken down each digit in the model name, let's take a look at how it looks in relation to the
Axis P1377 5MP Lightfinder Network Box Camera 01808-001
.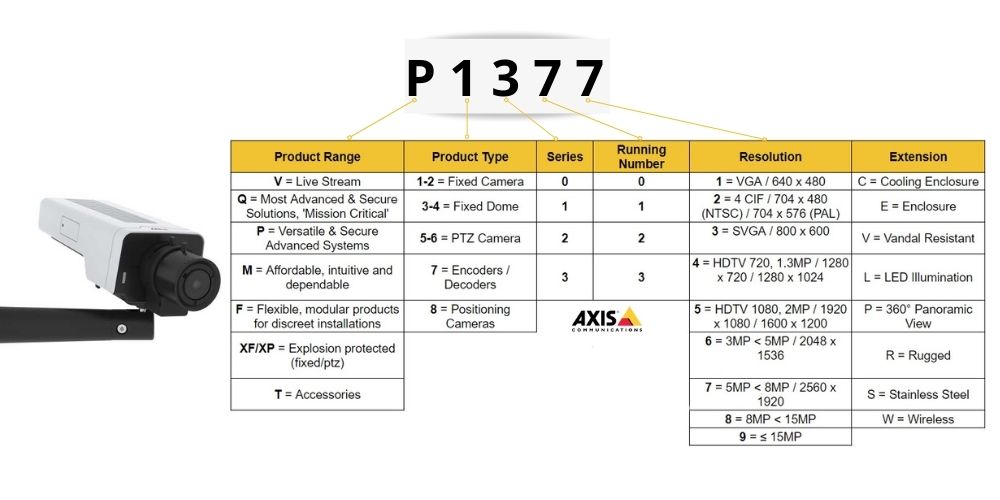 From this we know that the P1377 is:
From the P range, so versatile and secure.
A fixed camera, meaning it remains in one position making it ideal for deterrence.
It's a series three camera (remember, Axis advise not to pay too much attention to this digit).
The running number is 7 so it's the newer version of the P1367
And the resolution is 7 meaning it is between 5MP and 8MP, a closer look at the product page and data sheet will provide more detail.
As there is no extension to this part code, we know that it should not be used outdoors without the relevant enclosure (sold separately). We also know that it doesn't feature LED illumination which is a common requirement in security installation.
If the camera is intended for use outdoors and at low light levels, the user would be looking for the
P1377-LE
instead, Note the L for LED to support low light level video quality and the E for being out-of-the-box ready to install outdoors.
I hope this has helped to explain what to look out for when reviewing Axis model numbers. It is always advised to read up on the product pages and data sheets when looking at specific cameras, but the naming convention will help to whittle down your choices.
Don't forget our team of experts are always on hand to help with any inquiries, whether it's via our forum, emailing us at
sales@use-ip.co.uk
or calling us on 01304 827609, our offices are open Monday-Friday, 9am-5pm.
Emma