Hi everyone,
Sorry for the long post - just trying to be complete!
I have one Hikvision bullet camera, DS-2cd2022WD-1 4mm camera.
I have updated to the following firmware: V5.4.5 build 170124
I can't get my cameras as registering to be 'online' though I can see live streams on both LAN and the wider Internet...
I am trying to set up a goat cam so we can watch our pregnant pygmy goat. At the moment I am just concerning myself with getting a live feed working properly.
I have one camera added to the network and I can see the camera feed on the LAN and have done the port forwarding thing so I can see the image via apps etc on the Internet at large.
I am on a BT Home Hub and my IP address is not fixed. I understood that the new HikVision-Connect service superseded/subsumed the old HiDDNS service to overcome this.
I want to register my camera on the HikVision-Connect service but find myself incapable of adding it. My camera, despite me being able to see the images on the wide internet, reports itself as being offline.
>Network>Advanced settings>Platform Access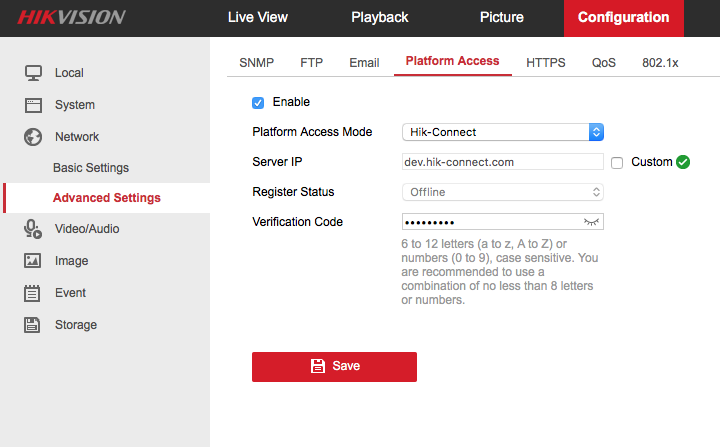 In getting to this stage I have assumed that it is me that defines the verification code. Is that a mistake? Should I have taken the verification code from the back of the camera?
I spoke to HikVision who I persuaded to speak briefly to me even though, as one who purchased through Amazon, I am not entitled to their help (I didn't know that!). He suggested I need to change the DNS server addresses. I have a default set of 8.8.8.8 Google's DNS server. I have set no secondary DNS server. I did try changing to BT ones (As per my router) but no joy. I rebooted and lost those settings so am sticking with the 8.8.8.8 option.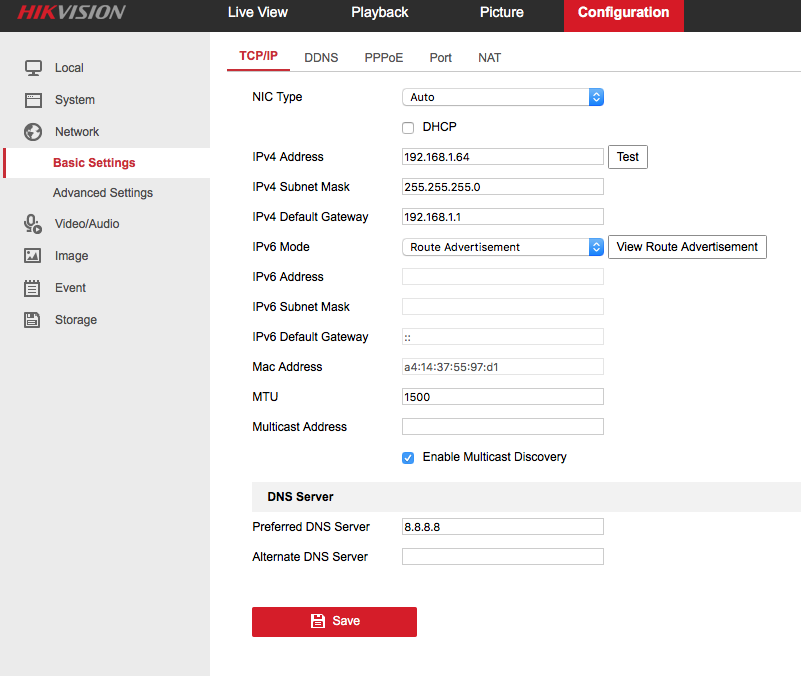 In attempting to register on the Hik-Vision Connect site I type in the 9 digit serial number. It reports "The device is offline. No search result is found".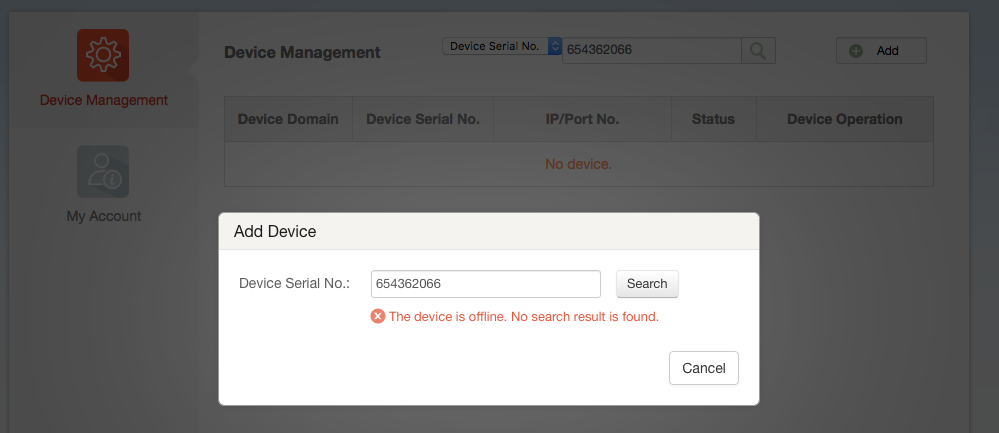 I suspect there is some obvious step (Perhaps several) I am overlooking. What confuses me is that whilst i can see the live feed of the camera using a direct IP address, the camera reports itself as being offline. Obviously I am misunderstanding something. Any help would be much appreciated. (We want to proceed from this, assuming we can overcome this hurdle, to event recording in order to capture the birth off the goats and to embedding the feed on a web site.)
Thanks in advance,
Doug